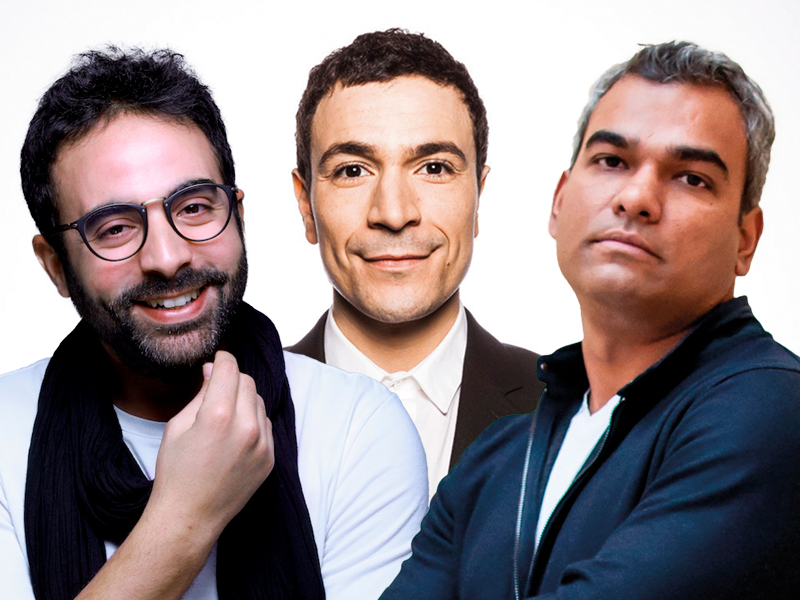 à 20h00 à l'aalt stadhaus
Hosted by Sundeep Bhardwaj with Yacine Belhousse and Wary Nichen
Yacine Belhousse has already been at the Aalt Stadhaus in 2017 with Sebastian Marx on the artists' set The New York Comedy Night and with Verino on the Inglorious Comedy Club set.
Yacine has also made himself known to the general public with the Jamel Comedy Club, but also thanks to Inside JCC, Bref sur Canal+, Golden Moustache, etc. Today, he develops, alone on stage, his absurd and tender universe!
Sundeep Bhardwaj, who will host the evening, is a banker turned actor and speaker. Sundeep has played to sold-out crowds at the Edinburgh Fringe Festival and in eleven countries around the world. He has a great reputation as a speaker in Toastmasters Club comedy speech competitions in Europe and is a rising star on the European comedy circuit.
Wary Nichen is an African Nomad. After a career in Telecommunications, he completely shifted gears – becoming a stand-up comedian and filmmaker while studying in Montreal. Now performing in different cities across the world using his keen sense of observation and improv skills to highlight the differences between East and West, his comedy is pertinent and brings people of different backgrounds together to laugh about themselves. Wary performs in different languages reaching an increasingly diverse audience.